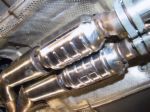 Samantha asked:
I have 8 cats (each about a year and a half to two years old), and a Puggle named Jake that turned 2 years old today. We let my cats run around the house, and we keep Jake in his own room and let him in the backyard for an hour or two every day. We want to let my Jake run around the house, so we're having a trainer come in and train him to not destroy the furniture and such. The trainer says she can train him to ignore the cats, but what about the cats?
Earlier today when we were letting Jake run around free, he got too close to my cat, Trevor. Trevor hissed at Jake and lashed out with his claws, cutting Jake's ear open. We had to bring him to the vet and for the next 24 hours his ear will be bandaged.
Is there a way to avoid another injury like this without having to separate the cats from the dog?