Bin Men Saved the Day! (And the Kitties)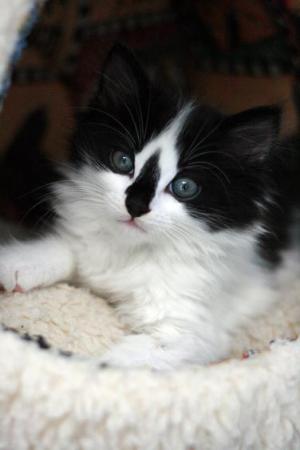 Three little kittens can thank their lucky stars for being spotted and saved by vigilant bin men, seconds before being crushed to death in the back of a refuse (garbage) truck.
The eight-week old black and white kittens were found stuffed into a shoe box in a garbage bag, last Friday by refuse workers in Montague Road, West Hendon, while they were on their rounds collecting garbages.
They had been about to chuck the garbage bag along with other rubbish into the powerful crusher at the back of their truck when one of them suddenly caught sight of the kittens (or perhaps heard a little meow from inside one of the plastic bags).
Upon finding the kittens, they spoke to a local resident who agreed to rehome two of the cats and took the last of the trio to The Mayhew Animal Home in Kensal Rise, where staff have named him Bin because of his ordeal.
Mayhew CEO, Caroline Yates, said: "It is hard to comprehend that anyone would leave three vulnerable kittens trapped in a shoebox left for a fate of certain death."
"There is no excuse for dumping any animals in such a cruel and heartless manner when there are many charities and organisations in London to approach for help." A spokesman said.
"Luckily they were found in time and a compassionate member of the public brought one of them to The Mayhew to find a safe new home."
My Comments:
What do you think about this? Would YOU do the same thing to your kittens if you couldn't find a home for them and wanted to get rid of them? Could it be that the person who threw them out was somehow hoping that they would be found by someone kind and rescued? Or do you think that they were simply cold hearted and mean?
Comment below.
Thanks for reading and I hope none of you will do the same to your kitties!
Camille