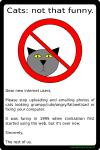 'N Stuff asked:
I have 2 cats. They are both overweight. We feed them Purina Naturals or something like that. We want the best, dry cat food designed specifically for overweight cats. They are adults, 5 and 9 years old. We feed them 1/3 of a cup twice a day, once in the morning, and once at night. We give them snacks throughout the day as well. I think we are feeding them too much. What do you think?
•How much food do they need each day?
•And how many times to they need to be fed that amount?