Adopt Cute Bengal Kitten
Want to adopt a loving Bengal Kitten? Learn all about Bengal Cats here>>>
Or look for more sweet loving kittens for adoption in our FREE classifieds>>>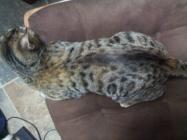 Six Month old Bengal kitten for sale:
I have a beautiful four month old female Bengal Kitten. She is very playful and friendly, and lovable once she gets to know you. I am selling her for $175.00.
If interested please call me at   (323)798-6766 cell, or at (661)946-6837 home.
Also, I don't ship to other states.
I am located by Los Angeles,Lancaster, CA.
Thank you, Dahlia.