Help Joey Win The Cover Cat Photography Contest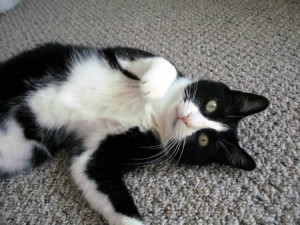 Joey was adopted from a rescue group in Austin, MN called Cats Off Broadway.
We knew he was the one for us when he was set on the ground and boldly walked up to a cage of dogs and began giving his sideways big-tail halloween cat stance at them when he was a mere 8 weeks old.
He has been a great source of joy for us – he is affectionate, talks a lot of smack, is always showing us his adorable "supermodel poses" and has quite the independent streak as well!
He started his Facebook page when he was 2 years old and we have had great fun with it and have met so many friends thru him.
He did invent the word "Poonanigans" which is now common vocabulary with the animal crowd on Facebook.
His pink nose melts the heart of many.
Help Joey win this cat photo competition!
How to vote? Star rate Joey, like and share, write a comment below!  
[kkratings]