Maine Coon Cat Breed Information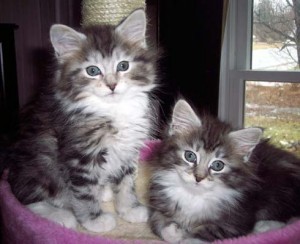 What Kind of Cat Breed is the Maine Coon Cat? The Main Coon Cat, is a long haired domestic cat breed which comes from Maine, USA.
History of the Maine Coon Cat:
There are many tales as to how the Maine Coon cat came to America.
Here are a few of these tales:
When Marie Antoinette tried to escape from France, she loaded her ship with some of her most beloved posetions, including six of her most beloved longhaired cats. Although she didn't make it to America her cats did, landing on the Coast of Main where they  mated with the Norwegian Forest cat and become today's Maine Coon Cat.
Other people believe that the maine coon cats were brought over to America by