Make Your Cat Memorable & WIN $500!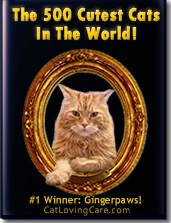 Have your cat stick out from the millions of other cats in the world, by placing her/him in "Cutest Cats in The World" – CatLovingCare's unique cat book, open only to 500 of the world's cutest cats.
If you have a cute cat you love – she or he belongs here!
Imagine how proud you'd feel having Your Cat featured in a real elegant book, for your friends, relatives, neighbors and the whole world to see and admire.
Immortalize your cat – Have your cat remembered even after she's dead; Not only will your cat be seen, but you can share special unique cute things or funny habits your cat does, or perhaps an interesting little story or a rescue story if you rescued her….
The Perfect Gift Of Love – A beautiful book for any real cat lover. It shows you care and love your kitty cat.
You may also enter your beloved relative's cat and see their eyes shine with joy on their special day.
About The Cutest Cats in The World Book
The "Cutest Cats in The World" book is open to any kind of cats of any breed, gender, age and nationality.
Book will be published and available on Amazon and in leading book marketplaces.
"Cutest Cats in The World" book will be in a hard-cover as well as soft-cover edition.
8.5″ x 11″ is the size of pages, with app. 179 elegant pages, FULL COLOR glossy print.
Each entrant receives 1/3 page space. (If you want more space/full page contact us).
We'll resize and/or edit the image you submit and improve on it when possible.
Book will be ready on the Amazon marketplace within 6 weeks of CoverCat being selected.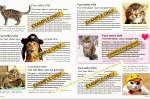 Book cover displayed above is only a sample and not the final cover. See here an example of inner pages. (Click on the image to enlarge it).
Actually, Your Cat Could Be On The Book Cover!
Wouldn't that be awesome?
You see, all participants in the book will be able to enter the Cover Cat contest for FREE.
The CoverCat Contest is ONLY open to "Cutest Cats in The World" book participants.
Therefore, you have higher chances of winning, as you're not competing against tens of thousands of entrants as in other online cat competitions.
The CoverCat contest shall determine which cat appears on the cover.
If your cat is the CoverCat, you will also win a cool cash prize of $500.00!!!
You may use your cash prize to buy stuff for your cat or for yourself, or donate it to your favorite cat charity.
However, you don't have to have your cat on the cover if you don't want to, or if your cat is shy… Participating in the CoverCat contest is optional, so if you hate contests and winning prizes you have the right to claim a place for your cat in this unique book and let someone else win.
Enter Your Cute Cat into the Cutest Cats of The World Book and get a chance to win!
CoverCat Photo Contest Prizes:
The most voted and liked cat will get $500.00!
The 2nd most voted and liked cat gets $100.00!
The 3rd most voted and liked cat gets $100.00!
The top 12 winner cats will be placed in a beautiful 2012 calendar!
The top 3 winner cats will be featured on our ads all over the web!
BONUS Gift for All Book Participants:
EXCLUSIVE FREE Service for All book participants: We'll honor your beloved cat by beautifying and enhancing its image and displaying your feline on mugs, T-Shirts, shopping & tote bags, aprons, embroidered bags & caps, key-chains, necklaces, iPad cover, postal stamps, a photo stand, stationary… and on many other items!
Perfect as Christmas, anniversary and birthday gifts to your loved ones.
See a small selection of product examples (Click on image to enlarge it):
How The Cutest Cats Cat Photo Competition Functions:

Once we hit 500 book participants we'll notify you all and let you get rating votes and likes for 2 weeks more, so everyone has a fair chance to get their cat popular, even if they joined at last moment.
Winner will be announced within 1 week after voting ends!
Good luck and god bless!
How to Enter Your Cat into This Book
Only 500 places are available for the cat "Cutest Cats in The World" book publication.
Cats of any age, breed, gender and color can enter!
Make sure your entry complies with our TOS.
You can enter your cat in 3 easy steps; Like us on FB, purchase your cat's entry placement and then fill out the registration form (The form will appear after you've paid the required entry processing fees).
Step 1: Click here to Like us on Facebook!

Step 2: To be included in the book please pay the required processing fees. These shall be used to cover graphic work and creatives for the creation of the book, marketing, the contest management and customer support, as well as for sponsoring contest winner prizes.
We Love cats. :-D Therefore, 10% of all net proceeds shall be donated to a pet shelter or charity. We will determine the charity by open voting on it via our website, once all book entries were claimed.
Immediately after ordering your cats' placement in the book, you will be redirected to a special page on our site where you will fill out the entry registration form; tell us about your cat and be able to upload a photo of your cat.
Please attach an image that's best quality as possible and not some tiny blurred thumbnail. One which belongs to you and not copyrighted by anyone else.
If you need to take some time to snap a picture of your cute kittty- no problem, just make sure to send in your entry ASAP.
"What Happens After I Submit My Cat's Entry Registration Form?"
After your successful entry is confirmed and validated by our payment processor, we shall set up for your cat a dedicated page on our website, in order to facilitate voting for your cat.
You shall receive the link to this page within 72h of your validated entry, but in-case we're overwhelmed with entrants, it may take a couple of days longer for our support to handle it. We'll do our best to service you ASAP.
Once you're cat's page is live go get votes and likes – Tell all your friends, fans and family about it so they can vote for your cute kitten/cat to win the prize!
Secure Your Cats Placement in "Cutest Cats in The World" Book
By ordering you acknowledge you have read and agree with our TOS and refund policy.
Enter your kitty for only $29.99 $19.99!
SECURE YOUR ENTRY NOW BEFORE PRICE RETURNS TO NORMAL!