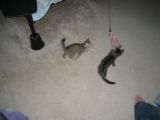 Michael W asked:
There are several cats in our household. I've just recently noticed that several of our cats stretch one of their hind legs (primarily the left leg) out behind them when they approach a human and sometimes other cats. Is this some form of greeting? Submission? I can't find anything about this when I search online.
Save on your pet's medications and get guaranteed the lowest prices on Frontline, Heartgard, Advantage, and all your pet's health care needs. Free shipping on orders over $39.
This entry was posted in Q&A and tagged cat habits, Cat Submission, cats stretch hind leg, Left Leg on by MamaMia.