Help Sunny Win the Cover Cat Photography Contest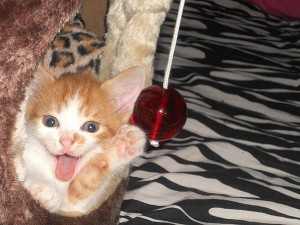 Hi, my name is Sunny. I was born in a barn and have 4 brothers and sisters.
When I got a little bigger it was time for us to find our own homes.
All my siblings were picked and I was left all alone. One day the cutest little girl came and saw me and it was Love at first sight! Her family took me home with them.
It took a little while to get used to new surroundings and NEW siblings. My new kitty siblings didn't like me at first, and it took some time for them to get used to me.
I couldn't understand why this new family liked to sleep at night! Nighttime is playtime!! I tried everything I could to wake them up… biting their feet, jumping on their heads…etc.
I guess the only thing I could do was learn to sleep at the same time they do. I'm really happy to be here. I am very loved and cared for. I make sure I let them know how much I love them too. With me, there is never a dull moment in their house :)
Help Sunny win this cat photography contest!
How to vote? Star rate Sunny, like and share, write a comment below!  
[kkratings]