Help Balki Win the Cover Cat Photo Competition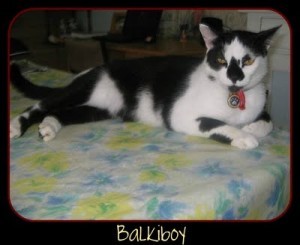 Balki is a Domesticated Short-Hair Breed with unique markings and colouring. He was abandoned at 10 weeks of age on a busy road not far from where I live and, I took him home to live with me.
I named him Balki after the character Balki in the sitcom ' Perfect Strangers ' and just like Balki in that show my Balki is faithful, handsome, friendly and goofy.
The best friend I could ever wish to have in my life. Dont need a real life Prince Charming as, I already have one in Balki.
[kkratings]
Help Balki win this cat photo competition!
How to vote? Star rate Balki, like and share, write a comment below!  
Most popular cat will win $500 in our Cat Photo Competition!