All About Abyssinian Cats and Kittens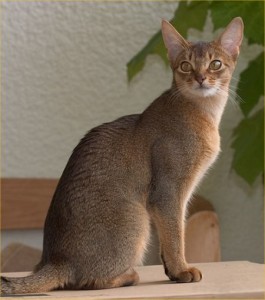 The Abyssinian cats are the most popular breeds of shorthair cats in the USA.
Read all about Abyssinian cats temperaments, abyssinian cat origins and all you need to know about abyssinian cats before buying an abyssinian kitten!
Abyssinians are medium sized cats, with a strong, lithe body, slender legs and a fine bone structure.
The Abyssinian cat has alert, relatively large pointed ears.
Abyssinians have  almond shaped eyes which vary between either gold, green, hazel or copper.
Their paws are small and oval shaped.
The Abyssinian cat's tail is fairly long, being broad at the base and tapering to a point.
A m-shaped marking is often found in the fur on the forehead. The m-shaped marking, also called "frown lines", appears above the Abyssinian's eyes.
The abyssinian cat breed has a