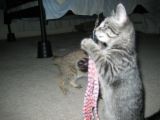 B asked:
I have two cats. One seven month old, and one six month old.
Last month the older cat started going into heat. This month the younger one had her first heat.
Now the older one is going through heat again. Did the younger one's heat trigger the older one into heat again?
I have never had unspayed female cats, so I have no idea how often they go into heat.
Is this normal? Is it like when two women get their periods in sync with each other??
Thanks for the help!